About Region Örebro County
Region Örebro County is a political assembly elected by the citizens. An executive board leads and coordinates Region Örebro Countys activities, first and foremost in the field of the public health care system. Region Örebro County exercise a degree of self government provided for in the Constitution of Sweden.
What does Region Örebro County do?
Region Örebro County is responsible for health care, dental care, support and service to the disabled, research, education and regional growth. It is also engaged in questions concerning economy, the European market, environmental issues, communications, tourism and culture.
Region Örebro Countys most important task is to plan and provide health care to the residents of the county. It cooperates closely with other partners to ensure positive development in health matters as a whole, to tackle inequalities in health, to ensure good health among children and young people, and to support and strengthen initiatives taken to promote well-being and prevent illness.
About Örebro County
Geographically Örebro County is situated in the centre of Sweden, about 200 km from Stockholm and 300 km from Gothenburg. The County consists of the historical province of Närke as well as parts of the historical provinces of Västmanland, Värmland and Västergötland.
The county offers a diversity of landscape, historical and cultural traditions. Many homesteads and old smelting-houses bear witness of past centuries when iron was mined in the northern part of the county. The centre part is dominated by large areas of farmland, estates and small industrial communities. Fishing and boating characterize the districts around the lakes Vättern and Hjälmaren.
Örebro – the 7th town in Sweden
There are also smaller entities in Swedish counties, called "Primary Municipalities" or "Primärkommuner"(or plainly just "Kommuner"). Even though these municipalities are independent of the County Councils, cooperation is a necessity in many fields.
Örebro is the main city with about 142 000 inhabitants. It is the seventh largest city in Sweden. Örebro University and the University Hospital (USÖ) is situated here, as well as several large business companies.
Örebro offers a rich cultural life. There are theaters, a concert hall, museums and galleries. You will also find good restaurants, pubs and a wide range of sporting and leisure activities.
Some facts about Örebro County
Inhabitants: about 305 000 (2020)
Municipalities: 12, whereof Örebro
is the largest with about 156 000 inhabitants
Largest lakes: Vättern and Hjälmaren
Highest mountain: Svinhöjden in Kilsbergen, 436 m over the sea
Nature reserves: about 274 (2020)
National parks: Tiveden national park, Garphyttan national park
Some places of interest: Örebro Castle, the open-air museum Wadköping, the water tower Svampen (called "the Mushroom"), OpenART (Scandinavia's largest biennial for contemporary art), the ruins of Riseberga convent, the smelting-house Pershyttan, the wooden houses in the town of Nora, the Nordic House of Culinary Arts in Grythyttan, Alfred Nobels manor Björkborn in Karlskoga.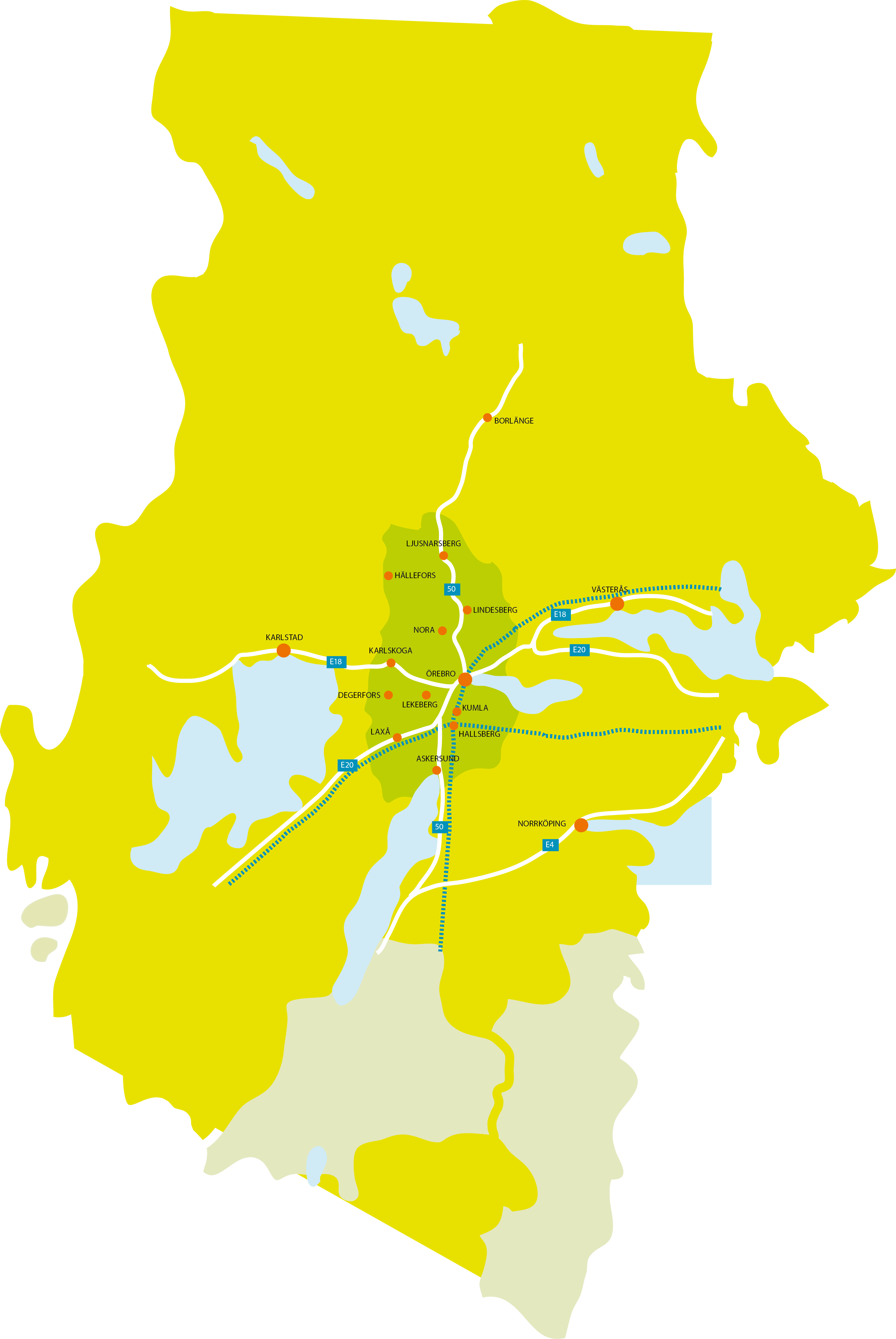 International projects
We are always looking for good regional, national or international projects. The Regional Development Administration participates in:
Contacts
Did the content help you?
If you would like to send some feedback, you may do that
Thank you for your feedback!
Last updated: Thursday, June 10, 2021