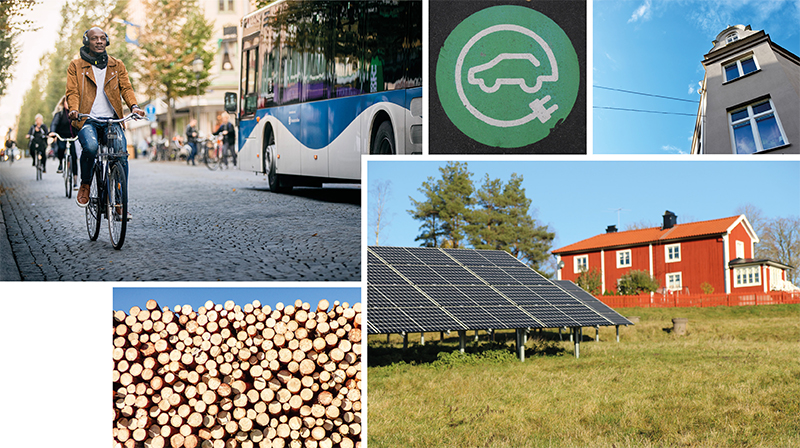 Our work contributes to the region's climate and energy vision - by 2045, Örebro is a region without the net emissions of greenhouse gases into the atmosphere.
In order to reach the vision, we have three strategies:
Energy use is effective in all parts of society and based on renewable energy sources.
New purposeful technology and changed consumption habits contribute to achieving the environmental objective of limited climate impact outside the county.
The energy change contributes to the sustainable development of business and increases the possibilities for a good quality of life in the county.
Together with the County Administrative Board of Örebro County we have developed and are working on implementing the energy and climate program for the Örebro region.
We work mostly in project form. We are always looking for good regional, national or international projects in the energy and climate area that we think the region needs and can develop from.
Our project experience range from energy efficient construction and lighting to sustainable transport. Our former projects have been in widely different industries and areas. We have worked with the manufacturing industry, property owners, homeowners, housing associations, sports facilities and schools.
We have an assignment from the Swedish Energy Agency to coordinate the local energy and climate advisors in our region.
The Regional Development Administration also participates in
We carry out assignments and investigations. We organize courses, conferences, and tailor-made energy and climate educations. Some examples are courses for near-term contractors, wind power courses for farmers, seminars on energy efficient lighting and for companies that want energy efficiency.
To gather the region and share knowledge and experience, we run networks. For many years, we have been running a network for property owners about energy-efficient construction and renovation. We develop continually new networks based on the needs of the region.
There are currently 15 regional energy agencies in Sweden. We cooperate nationally with the other energy agencies in our member organization Energy Agencies of Sweden.
We are a member of:
Fedarene, the European Energy Agency Association
ManagEnergy, the EU Commission's initiative
Covenant of Mayors (participating as a region)
Did the content help you?
If you would like to send some feedback, you may do that
Thank you for your feedback!
Last updated: Friday, April 30, 2021